10,000 Series
All Season Insulated Rooms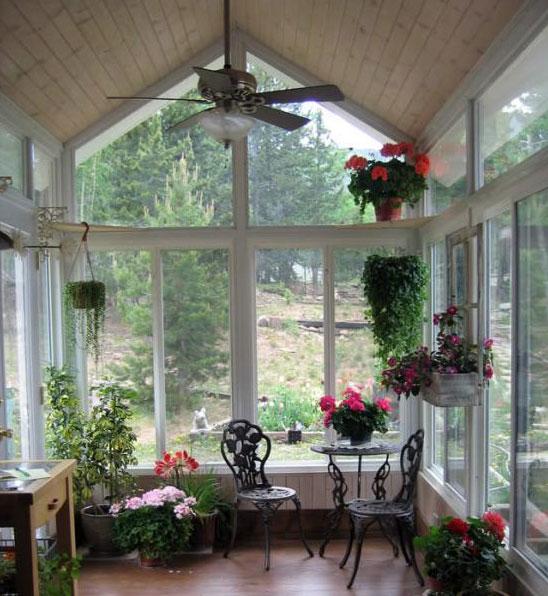 You would be amazed to discover how our exhilarating room additions bring the outside in. The exceptional qualities of our beautiful, energy efficient designs are why our sunrooms are among the best selling, most popular multi-use sunrooms on the market. What separates our rooms from other rooms is our flexible design process. Through this process, we are able to create a more unobstructed view of the outdoors by utilizing custom sized windows that allow more natural light to illuminate the room. This enhances your view and eliminates the need for solid wall fill.
Our all season room utilizes Energy Star rated vinyl windows with insulated glass. These windows are available in a dual or single slide configuration. Most people purchase a sunroom for the additional natural light it brings into their life. Our performance glass provides the best clarity and highest performance of low-E glass and offers year-round comfort and energy savings.
This room is 100% thermally broken which dramatically reduces the transfer of heat and cold while maintaining the great benefits of an aluminum structure. Assured comfort, lasting beauty, higher efficiency plus a lower energy billit all adds up to a sunroom that is clearly the very finest.
Modular Room Systems
NWI Innovative Products Pre-fabricated Modular Room System is both easy and quick to install.
The pre-assembled module wall units and unique, patented snap together roof design make the difference. In as little as a day, you could be enjoying your new enclosure.

Amerimax Windows of Excellence
The Ameriglass Insulated Glass System features Low Emissivity glass coated with dual microscopic layers of silver, combined with Edgetech TrueWarm Structural Foam Spacer to create a dual sealed glass unit with superior energy efficiency and long-term durability.
The Ameriglass System has now been expanded to include Ameriglass Low E Solar with additional tinting and enhanced blocking of unwanted solar heat gain.
Ameriglass System
Maximum UV Protection
Extremely Low Thermal Transmittance
Superior Condensation Resistance
Reduced Sound Transmission
Long-term Durability
Lifetime Warranty
You will enjoy energy savings year 'round.
Ridgid Tests
All Amerimax Windows and Patio Doors are stringentlytested by independent laboratories for:
Thermal Performance
Structural Integrity
Air Infiltration
Water Resistance
Wind Loads
Structural Supports
All of our sunrooms feature ABS wall-panel skins that are far superior to conventional aluminum or plastic skins. Our unique ABS wall-panel skins are scratch and dent resistant, moisture resistant, UV protected, and maintenance free. This means your wall-panels will retain their good looks for countless years to come.
All structural components are made from 6063 T-6 aluminum. Every structural member in our 10,000 series all season room is insulated against heat and cold conduction. This is done by separating the outside metal parts from the inside with a nonconductive material (see black strip in photo). This process greatly reduces the amount of heat or cold transferred through the structural frames. This feature is known as a thermal break or thermal barrier.
Go Back