2400 Series
Vertical Four-Track Rooms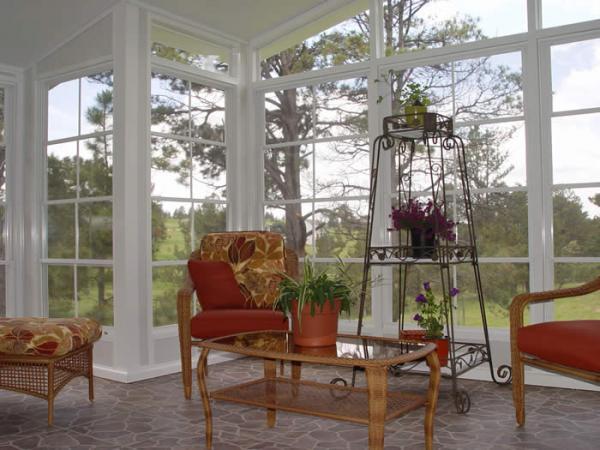 Whether you are considering a porch or patio conversion, or a small or large room addition, our 2400 series room is a favorite of homeowners wanting a patio room feel with maximum ventilation and views.
The lightweight vinyl-glazed Eze-Breeze panels slide up and down effortlessly to open up to 75% of the window area to breezes and fresh air. While the panels are open, the screens keep the bugs and debris out. Closed, they provide excellent protection when things turn damp or chilly.
The vinyl glazing used in Eze-Breeze Sliding Panels is lighter in weight and more affordable than glass. The tough 10-mil vinyl offers a panoramic view, while keeping wind and weather out. If accidentally distorted, the vinyl will return to its original shape within minutes. Panels tilt in for easy cleaning and can be ordered in tinted colors to reduce solar heat gain.
Modular Room Systems
NWI Innovative Products Pre-fabricated Modular Room System is both easy and quick to install.
The pre-assembled module wall units and unique, patented snap together roof design make the difference. In as little as a day, you could be enjoying your new enclosure.
Warranty
PGT Eze-Breeze Vertical Four-Track Sliding Panels come with a lifetime warranty on aluminum frames and a limited 10-year warranty on vinyl glazing, screens and parts.
Go Back